Butter Bean & Roasted Vegetable Stew
A flavorful vegan stew packed with creamy butter beans and smoky roasted vegetables. Simple to make and cooked entirely in the oven, this stew is packed with flavor while being full of nutritious ingredients. Served with bread, this makes for a hearty dinner and you will love having the leftovers for lunch!
For a vegetarian blog, we have been very light on soups and stews so far. I'm thinking we should change that this year. I need a kick up the backside to eat more vegetables (seriously though, eating meatless doesn't automatically translate to eating a lot of vegetables!)
This stew is kind of a spin off from my Vegan Sausage Casserole, in that we begin the process by roasting a bunch of veggies and we make our stew from there. It's simple enough, but doing it this way takes longer than simply sautéing the veggies – you will need to plan on an hour and a half cooking time (mostly inactive though).
I love this way of doing things. Roasted vegetables are more flavorful, and using the pan they roast in means that the stew is infused with all the oil and the caramelized bits of garlic and veg. It all helps to ensure this is as tasty as can be without a huge number of ingredients.
Our protein of choice today is the butter bean
Butter beans are our protein source here, and if you're not sure what butter beans are, you may know them as giant lima beans. They're large, creamy white beans that deserve a lot more love than they get in this world.
Butter beans are a staple in Mediterranean cooking, so I decided to lean into that vibe and add some olives and mint to this stew, which I think makes it stand out from the crowd a little, but you could absolutely go with more winter appropriate herbs if you prefer.
Which vegetables to include and how to roast them
I've gone for onion, garlic, carrot, mushrooms, and red bell pepper. You could mix it up, though; butternut squash, zucchini, and eggplant should all sub in fine.
The important thing is to get the cooking time reasonably consistent. You don't want to add anything that can't cook in the allocated time, or anything that will burn by the time everything else is done.
So chop harder veg in smaller pieces, and softer veg in larger pieces, to keep the cooking times even.
We've got a very umami, flavor packed marinade for the vegetables to roast in. Just a couple minutes of extra effort which gives the stew an even better head start.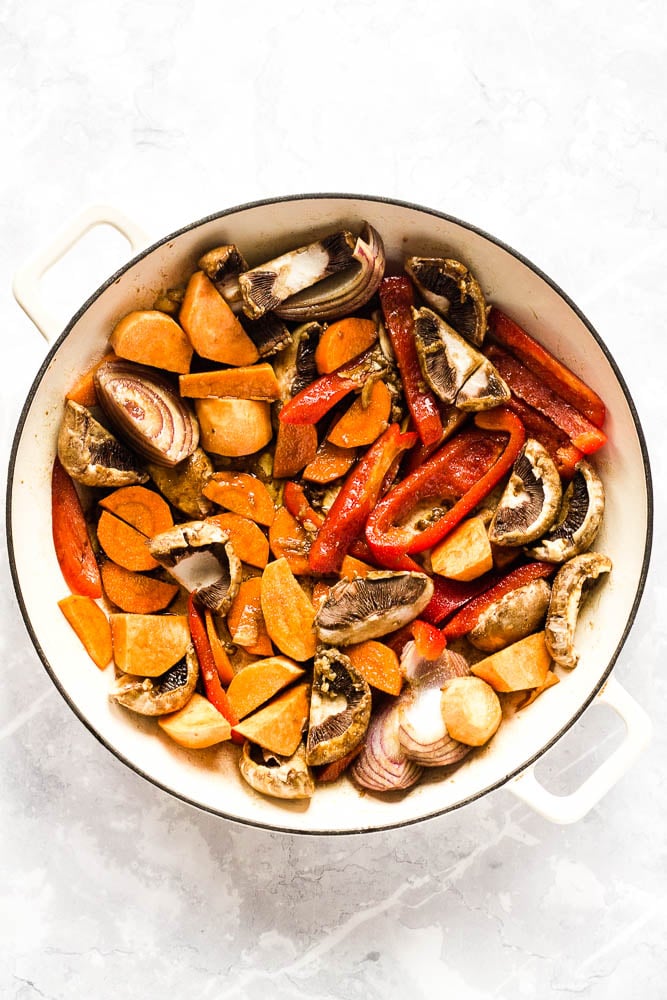 As you can see in the above photo, we are pushing the limits on what can fit in the bottom of the pan without overlapping. The more the veggies overlap, the more they steam and the longer it takes to caramelize.
Generally speaking, overlapping veg is the enemy of roasting because it stops things getting crispy. But this is the base for a stew so it's OK if they don't get crispy. We just want them caramelized into soft, melty, sweet goodness.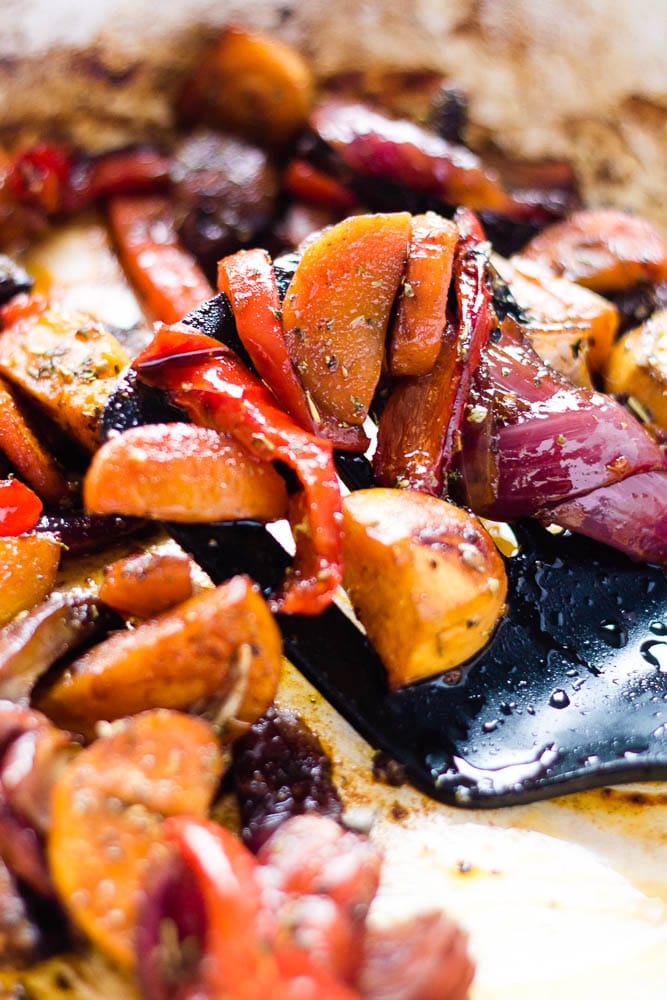 Not content with just these roasted veggies, we're going to add some spinach at the end too. A couple handfuls of baby spinach is the perfect finish and gives this stew even more nutritional goodness.
The best cookware for the job
You want a shallow casserole dish for the best results. The recipe is written for a shallow 3-4 litre dish, and it yields about 4 servings.
If you wanted to make a really big amount, you can double the recipe but you'll need to make it in a large deep roasting pan.
How to serve it
I love to pair this with some fresh bread for dunking and mopping, but mashed potatoes or mashed cauliflower would be a suitable accompaniment too for a seriously comforting bowl.
If you don't need this to be vegan, some feta cheese on top would be delicious.
If you've made lots ahead of time, it will freeze nicely for about 6 months.