Green Lentil Taco Soup
Tasty and nourishing green lentil soup bursting with smoky Mexican taco style flavors! You will love this fun and delicious spin on lentil soup, and can personalize it to your own tastes. Vegetarian or vegan depending on the toppings.
Lentil soup is a fairly classic staple of vegetarian cuisine, and has that elusive combination of being incredibly comforting whilst super healthy. We like those recipes!
Today, we're giving this green lentil soup a spicy makeover by bringing in the delicious flavors (and toppings) of tacos.
And it couldn't be simpler to make. With basic ingredients!
You may have noticed how much I love green lentils. I always have some in the cupboard and I love how versatile they are at replacing ground meat in dishes such as tacos or bolognese. And cheeeeap! This recipe is super cheap, as long as you have a reasonably well stocked spice collection.
So here's the plan. This is just a straightforward soup recipe, we are not doing anything crazy. You'll saute your veggies in a delicious combo of Mexican inspired spices. Cooked down for a while with the spices, they reduce and almost caramelize in the mushroom juices – take note of how they look in the image below. So good, right?
Then you just add your lentils, stock/broth and tomatoes. And in half an hour, you have a chunky, smoky, spicy soup that you can starting piling your toppings on.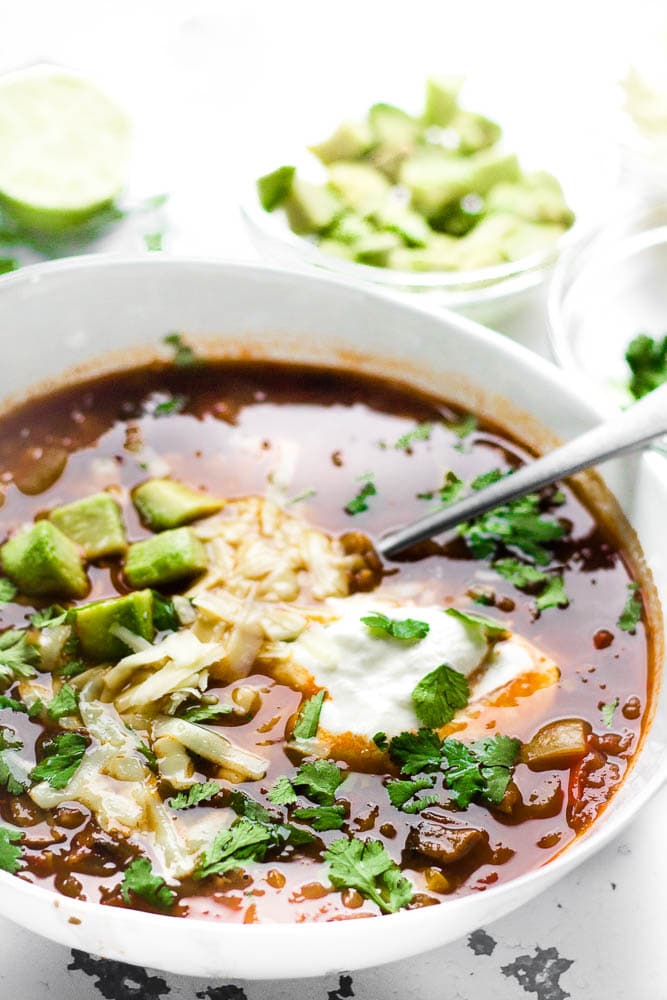 The Best Toppings
The fun part! This is what makes taco soup so good. Instead of a big bowl of uniform soup, you put lots of things on top so that every bite is a little different.
Whatever you'd put on a taco is welcome on this soup! Here's some thoughts:
Avocado or guacamole (guac will melt in a little, but what the hey)
Sour cream or yogurt (non dairy versions keep it vegan)
Grated cheese – it gets all melty and sinks in a little. We love.
Fresh coriander / cilantro
Crunchy slaw
Black olives
Chopped green onions
Sliced jalapeños
Top Tips for the Perfect Green Lentil Taco Soup
Feel quite free to swap in brown lentils or puy lentils, it will be just as good.
A can of beans will never be out of place here. Black, kidney, pinto… whatever you've got!
For the vegetable stock / broth, I just like to round up to two stock cubes to my 5 cups of water – this is a little more concentrated than the recommended amount but it works out fine.
The spices in this soup are nice and strong, but it's very mild in terms of heat. I only use 1/2 tsp chili powder and a mild one at that! Most of the smoky flavor is from the smoked paprika. If you like your food spicier, please feel free to throw more chili powder in there. You can then reduce the smoked paprika a little to balance things out if you like.