Vegetarian Tortellini, Kale & Lentil Soup
A creamy and deliciously spiced vegetarian tortellini soup that you can make a meal out of! Cheese tortellini, fresh kale and hearty green lentils combine in a creamy, flavor-packed broth. Make it your own with the addition of your favorite toppings and add-ins.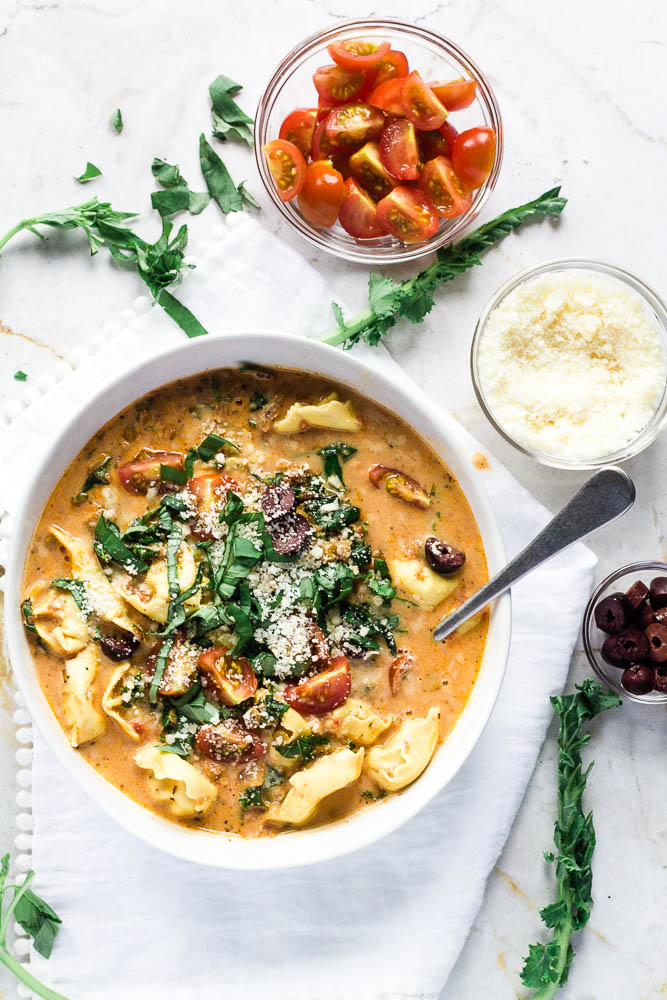 I've seen lots of delicious looking tortellini soup recipes out there, but I've noticed that they often have Italian sausage in them.
And I get it! That smoky, fennel vibe is always welcome and it would give the soup some hearty protein source. My answer to this? Lentils and spices! We can get a similar flavor and lots of protein and texture this way, whilst keeping it meatless.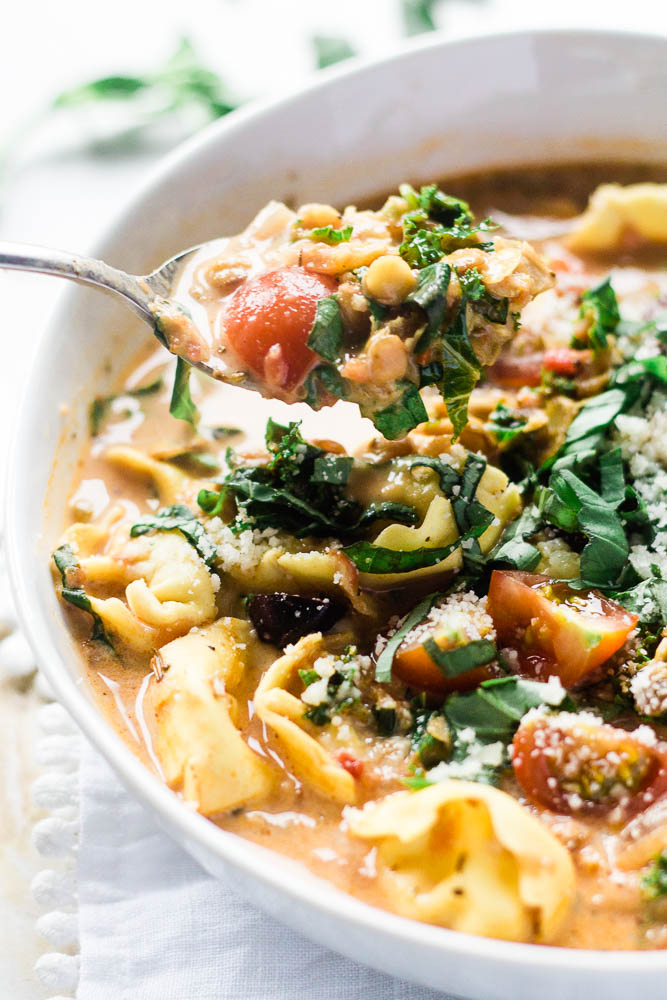 It's very straightforward to make. It's just… soup. We saute some stuff, add liquid, simmer it, add some other stuff. All in one pot! The timing of when you add things is important but it's very forgiving.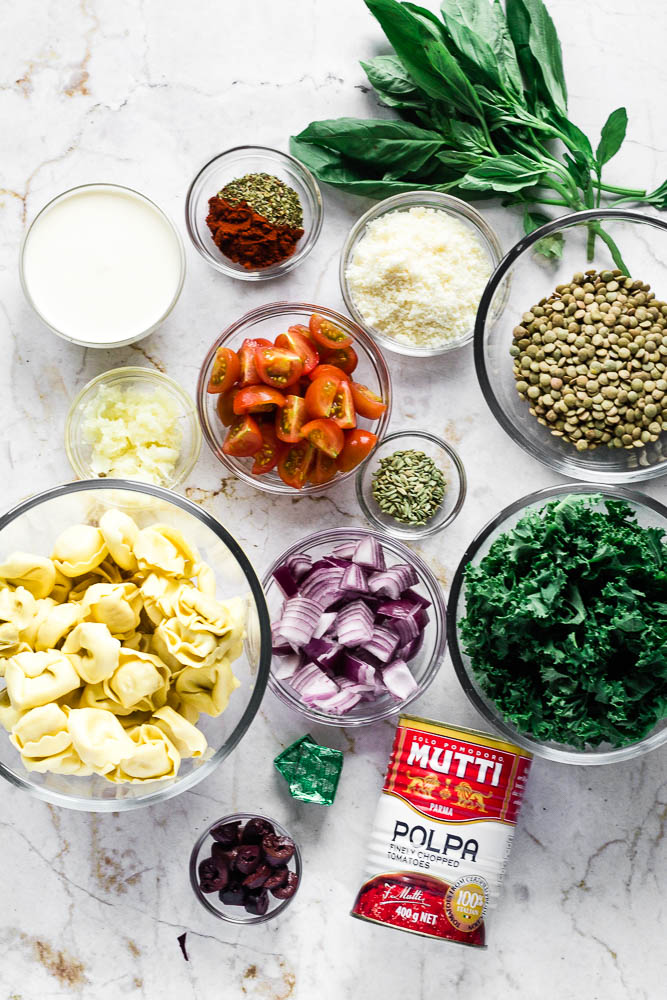 Top Tips for Making This Soup
I tested this recipe several times, several ways. Let me share my wisdom.
You can make this more quickly by using canned lentils. Then you don't need to leave it to simmer for so long and it will be ready in under 30 minutes. One 400g / 14oz can is just about the right amount.
Any tortellini will do here, but you get a different result with the dried stuff from the pasta aisle or the fresh stuff from the fridge. The former is sturdier and more al dente, the latter is softer. Your choice. I use four cheese tortellini, but any flavor will do nicely. Another filled pasta shape will slot in fine too.
You do not need the cream. Controversial, I know. We all like the cream, want the cream, but we don't need the cream. I made it several times with no cream and it works well without it too. But it made the cut for this recipe because it does give it a velvety, thick texture I thought was worth indulging in.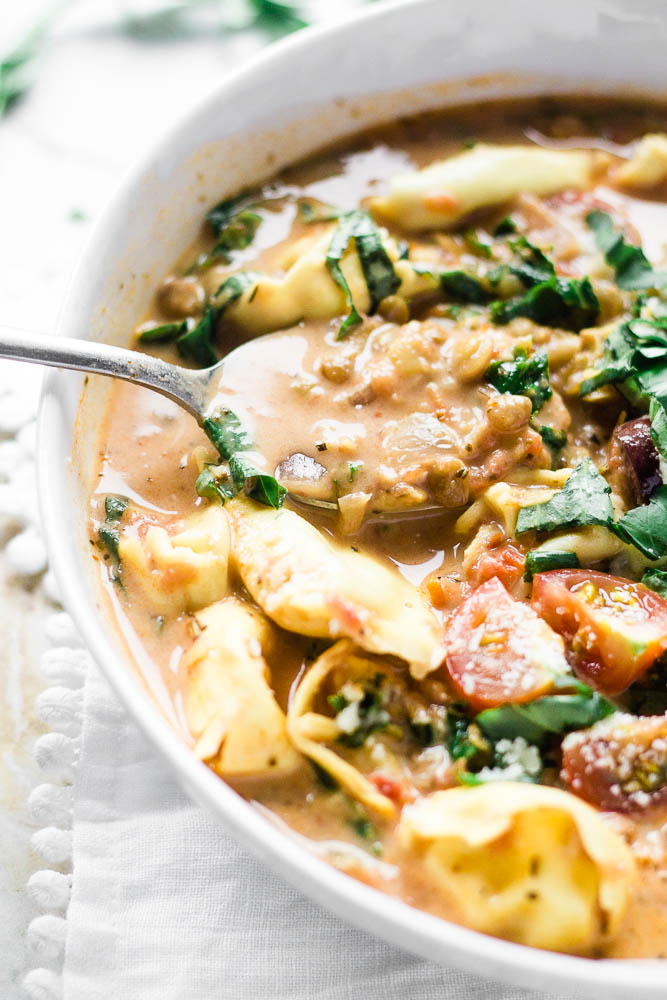 Which means you can make this vegan fairly easily. With the right toppings, the cream and cheese can disappear and you'll still have a delicious soup. Just find a vegan tortellini (not hard these days) and you're good to go. Of course, you can also add a vegan cream and vegan cheese. You just wouldn't have to.
Yes, put the kale in raw. The first time I made this, I actually precooked the kale. I sautéed it before adding it in, thinking it would go soggy and weird if I just submerged it into the soup. What a waste of time that was! When I tried throwing it in raw, like all the other kale soups out there, it was fine. I guess everyone else already knew this? But in case you're worried like I was, don't be.
Green or brown lentils are my preferred option, I kind of see them as the substitute for sausage crumbles and want them to be present. Red lentils melt into the soup more, and won't be so distinct, but if that's what you've got, go right ahead and use them.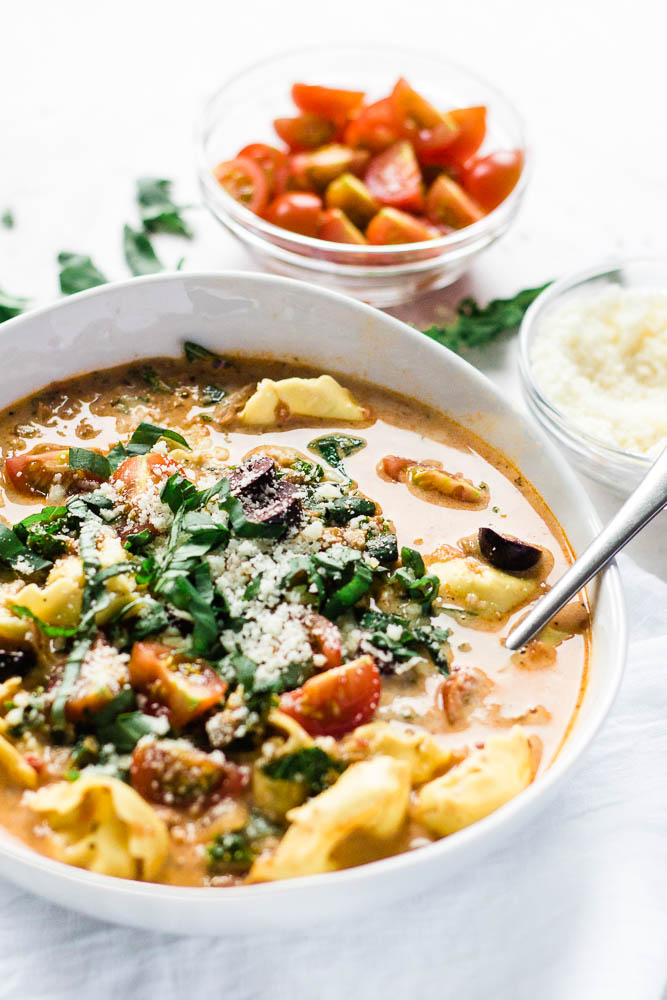 Swap some of the broth for white wine if you're into that. I am! If you do this, add it before the tomatoes and let it cook down a little.
Add more veggies! I didn't want to give you a million ingredients for this recipe, but some more veggies (mushrooms, peppers, zucchini, eggplant?) would work so beautifully in this soup. If you have them, use them! Saute them with the onions and take it from there.
Don't skip the cherry tomatoes – they add a sweetness and freshness that give contrast to the heavy texture of the cream – they really are the something extra this soups needs. (This is less important if you're not using cream, though.)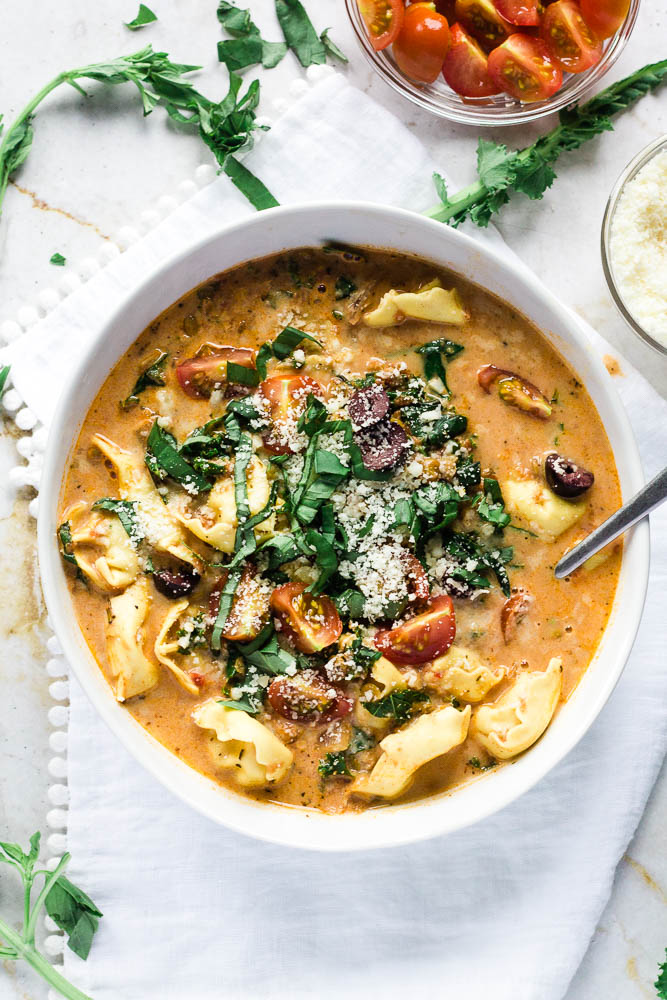 Serving and Storage suggestions
With the inclusion of tortellini pasta, I don't think this soup needs bread to dip, but a garlic ciabatta or some other fresh bread is never going to be unwanted.
This can store for a few days in the fridge, or a few months in the freezer (though my personal rule is that I will only put it in the fridge if the cream had a few days left before it's expiry date, otherwise it's straight to the freezer.) It reheats well in the microwave.