Vegetarian Stuffed Pepper Casserole
Making an easy, nutritious dinner is easy with this vegetarian unstuffed pepper casserole recipe! Strips of bell pepper are cooked alongside the deliciously spiced tomato lentil sauce to bring you the flavors and textures you love from a vegetarian stuffed pepper – but in a faster and easier casserole form!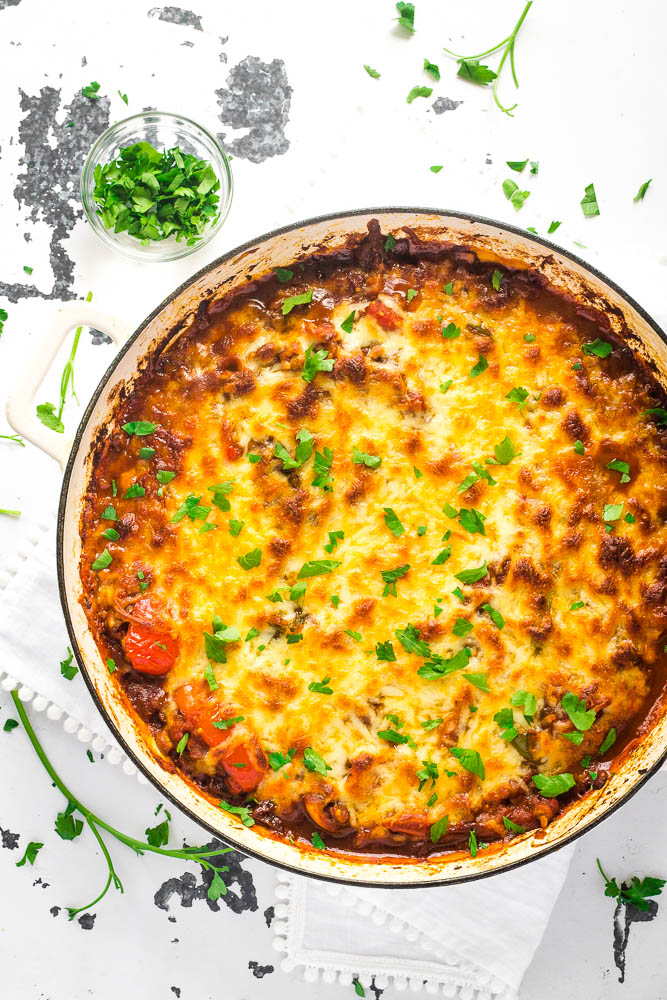 Stuffed peppers are a vegetarian staple, and the format is adaptable and lends itself to so many cuisines and fillings. There is a stuffed pepper for everyone. Even, it turns out, those who would prefer a casserole.
Enter the "unstuffed peppers" or the stuffed pepper casserole, or the deconstructed stuffed pepper? Whatever you'd like to call it.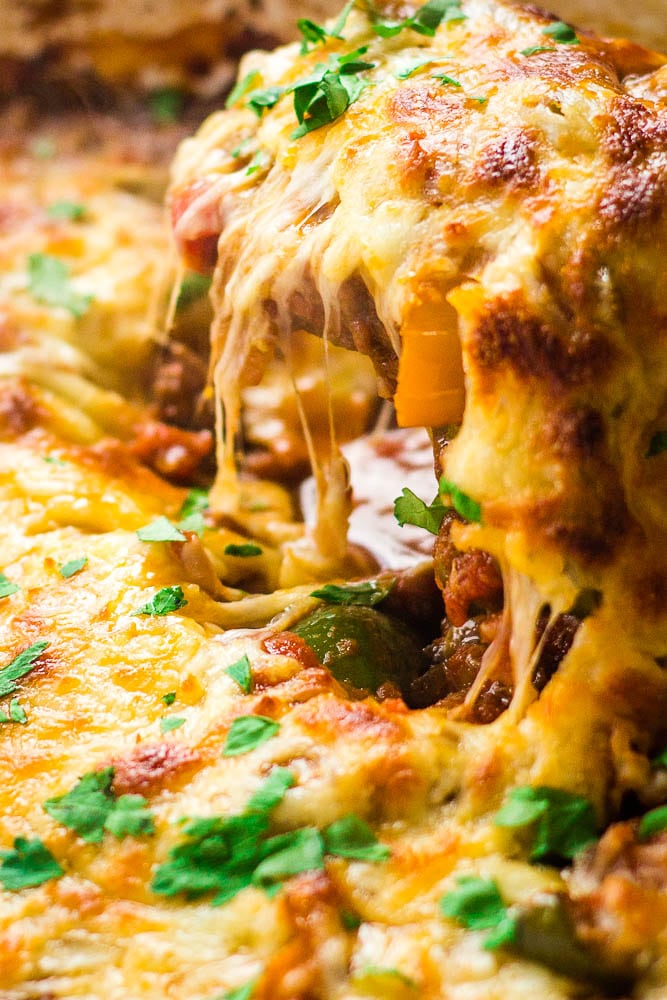 I've seen this idea floating around a lot on social media but it usually calls for ground meat. This meatless version uses… surprise surprise! Lentils. As regular readers will know, lentils are just my fave thing to stand in for ground meat. So healthy, so versatile, so cheap, so perfect.
Some finely chopped mushrooms float around in there for added "meaty"ness and it all comes together in a tomato sauce.
Now while I love using lentils to make things vegetarian, it can turn out pretty dull if we don't flavor it right. You see that bowl of spices right in the middle? That's how we make it fly. We have things like smoked paprika, fennel seeds, allspice… just to give it a really warm, tasty finish.
The mix of spices used don't fit into a particular genre, and none of them are too dominant or overbearing. Together they leave this casserole tasting great but still simple.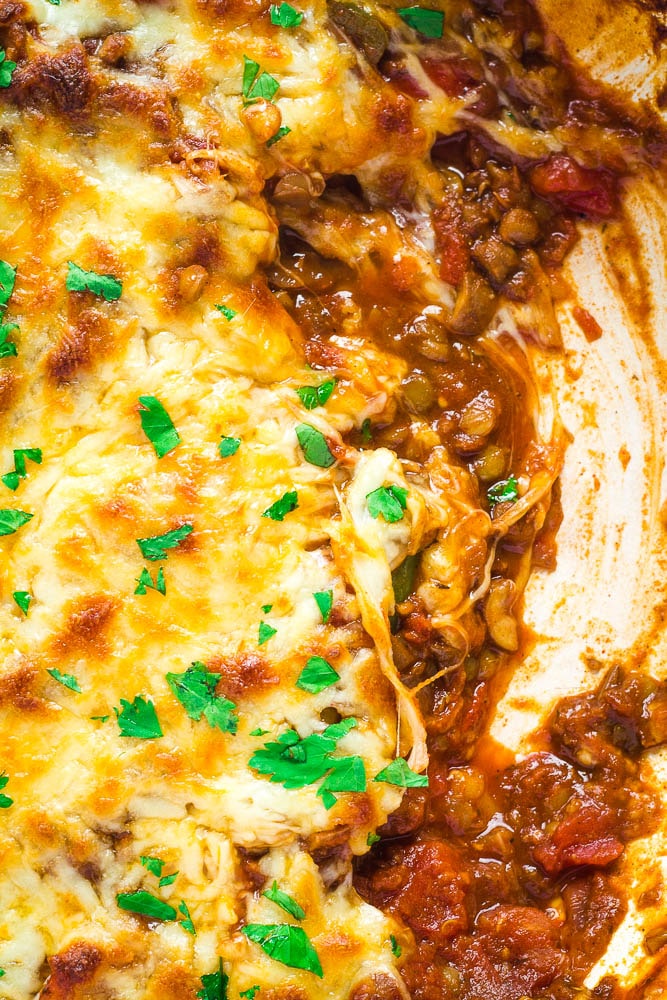 Oh, that cheese. A big layer of mozzarella finishes this off perfectly and adds that a little bit of textural difference that helps keep a casserole interesting.
How to make it
There's a printable recipe card coming right up, but just a quick visual of how this all comes together. You're just sautéing things in a pan, then topping with cheese and baking. Easy stuff here.
And the grand finale… that beautiful moment where you cut into the cheese for the first time.
Adjustments and Substitutions
I've used green lentils here but brown, puy or black lentils would all swap in fine. I call for 1.5 cups of cooked lentils (which will be 1/2 cup dried, if you're cooking them especially) but you can also swap in a can of lentils no problem. A can would be a tiny bit less, but it's not a problem. I suggest making lentils in an instant pot if you have one!
Add beans! A can of white beans would be fantastic here and elevate this to a high protein situation.
This casserole is very adaptable to what is in your fridge. Extra veggies always welcome. Just be mindful of when you add them. Hard veggies with low moisture can go in with the onions and peppers. But anything that leaches moisture (zucchini, something frozen, a watery squash) should go in with the mushrooms once the peppers are cooked to your liking.
I call for two cans of tomatoes here, and I use plain ol' chopped tomatoes but you can use whole (just break them up a little with the wooden spoon). It would also be delicious to swap in cans of fire roasted tomatoes or cherry tomatoes if you can get them, just to bump up the yum factor a little more.
I highly recommend bagged shredded mozzarella for this recipe. The coating they put on the cheese to stop it sticking together in the bag is quite helpful. It keeps the cheese dry enough to make a delicious distinct topping in a short space of time without any sinking in and getting lost (which is what happened when I used cheddar that I grated off a block).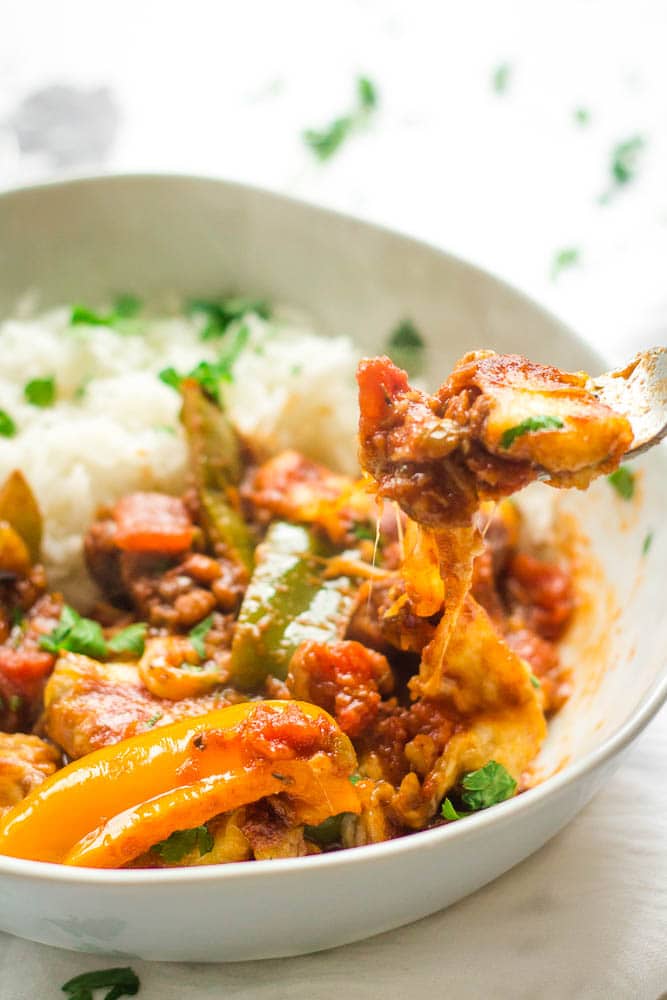 OK, ready to roll? Go forth and unstuff some peppers.